• Material Sustainability Matters
Getting just the right colour requested by the customer could be tricky, even if tested in smaller quantity, there is no guarantee the formulation would work 100% as intended. As a result, TISB may have tonnes of rejected ink kept in store, if left unchecked, the stored ink will solidify and required to be disposed of via scheduled waste management. TISB had begun looking closely to clear the rejected ink in store, to date, we are able to rework about 43% rejected ink in store
• R&D On Water Soluble Ink


To move forward towards a more sustainable future economically and environmentally, TISB had been putting in R&D efforts in the manufacturing of water-based ink for surface and reverse printing. Water based ink is an environmentally friendly alternative to the currently conventional high VOC products in the market. The water based flexo printing ink is currently ready to be tested by the customer before we mass produce the ink, while we are still working on perfecting the white colour water-based gravure printing ink. We are looking forward to market our water-based ink in the coming year.
TVHB had begun adopting solar energy in the ETSB and EMSSB headquarters in Puchong. The solar panels began generating power in July 2022. As of the writing of this report, the solar panels has generated 73.34MWh equivalent to 29.32 tonnes of standard coal saved, 34.82 tonnes of CO2 avoided, or 48 trees planted. Financially, the installation of solar panel cost RM354,500, with RM85,080 claimable under capital allowance and another RM85,080 claimable under government grant Green Investment Tax Allowance (GITA). As of November 2022, we have saved RM28,695 on the plant's electricity bill, which roughly translate into 30% of our power consumption. The panels are expected to pay for itself within 5 years. Moving forward, TVHB plans to expand the solar panel installations to more of its subsidiary's locations.
The EDM Cut Wire sold by ETSB, comes with high quality plastic spools. In order to maximise the operational life of such spools, ETSB re-collect the empty spools from customers, clean them and reuses them with fresh new wires. Each brand-new spool could be recycled 2 times before the plastic material become too brittle to pass our quality control measures. Each time the spools is recycled, a marking is made to ensure customers still get the best value from their purchases while being a little greener to the environment.
The EMS Graphite CNC Milling Machine is the culmination of EMSSB's R&D efforts to create a machine that optimally works with EDM graphite materials. A major feature of the machine is the oil curtain design that traps graphite dust emissions when machining the material. A veil of EDM oil will wash all graphite dust down during the machining process.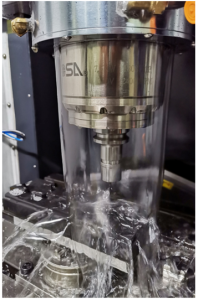 As a group of manufacturers, TVHB recognises its duty and responsibility in managing waste and always embedded sustainability practices into our business process to operate in more efficient ways in minimising the waste. All subsidiaries of TVHB categorise the waste as scheduled and non-scheduled waste as per the regulations. All the scheduled waste is being collected by the DOE's approved licensed contractor pursuant to First Schedule of the Environmental Quality (Scheduled Wastes) Regulations 2005 (8,9) and non-scheduled waste is collected by local authority's waste collector.